By D. Eze - September 8th 2014.
If you look for hearing aids on Amazon you will not be taken to the hearing aids section of the site. Instead you will be taken to the personal sound amplifier products (PSAP) section of the site. The PSAPs are very low in cost and can seem like a good option if you are having hearing problems. But hearing aids and PSAPs are not the same.
The main difference is that only hearing aids can improve impaired hearing. That is to say, if you have a hearing problem due to damage or degeneration then hearing aids will improve your hearing while PSAPs will not.
You may have seen the commercial where people are sitting watching television in bed, having a nice dinner out or playing with their grandkids and they are unable to hear the people around them. A device, a PSAP, is offered to remedy the situation and all the poor people having the hearing issues suddenly have smiles on their faces because they are now able to hear. It may appear that the people were having impaired hearing issues but they were actually having difficulty hearing in condition that were not optimal.
The PSA is only able to amplify the sound so that it is more easily heard. They are intended for people who are non-hearing-impaired. They are substantially cheaper.
PSAPís should be used when you are in an environment not conducive to hearing, which may include, a sporting event, a loud restaurant or to hear a television that is far away. In conditions that are conducive to hearing you will find that you do not need your PSAP.
Hearing aids should be used when you have a hearing impairment that has been diagnosed by a health care professional. In which case, you should use your hearing aid as directed.
The first thing you should do is find out if you have a hearing impairment. Go see an audiologist to get tested. If you are not sure if you need one use this FDA test to see if you might need to see an audiologist:
you canít hear a dripping faucet or a high note of a violin

The bad side to PSAPís

PSAPís can be useful but they can only be so if they are used properly. People with hearing impairments have been ignoring their issues and substituting hearing aids or PSAPís because PSAPs are available. This is doing a lot of hear to people whose lives would be greatly improved if they had hearing aids. PSAPís are just a stopgap that temporarily and insufficiently deal with the problem.

Bibliography

Mann, Eric A., M.D., Ph.D., ďHearing Aids and Personal Sound Amplifiers: Know the DifferenceĒ, U.S. Food and Drug Administration Consumer Updates website, Oct. 20, 2009. Retrieved 2014-09-03.

Hearing Products and Audiology Services - Omni Hearing in Woodbridge and Oakville. Retrieved 2014-09-03.
---
5 Ways to Be Healthier and Live Longer
#1. Get plenty of sleep. Afternoon naps are good too.
#2. Eat lots of healthy food - especially green tea which is a proven detoxifier and prevents cancer.
#3. Exercise daily - and try to do a wide range of exercises, including stretching, cardio, and even weightlifting.
#4. Stop stressing over things that don't really matter. The stress isn't worth it. Live small, but enjoy everything big time.
#5. Don't make excuses so you can be lazy or because you failed. Take action instead and keep trying until you succeed.
---
10 Ways to Exercise as a Family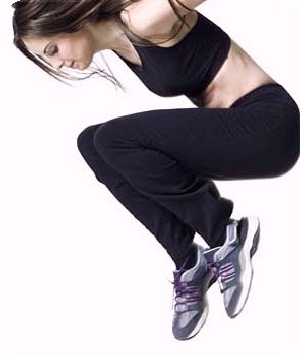 1. Go for pre- or post-dinner walks
Whether you head into town or just cruise the neighborhood, building a walk into your daily schedule ensures that it won't get put off. Brookline, Massachusetts, master Pilate's instructor Lisa Johnson and her husband take evening walks with 3-year-old Alex, who alternates time in and out of the stroller. To make walking more enticing, Johnson makes a sport of it. "At one house we look for a cat sitting in the window, at another we run up and down a short flight of stairs," she says.
2. Crank up the music and boogie down
Betsy Murphy of Coral Gables, Florida, holds disco nights with her four kids and several neighbors. She moves the furniture aside, fills the CD player with dance tunes, and lets the kids take turns using a flashlight as a strobe light. "They dance for three hours straight," Murphy says. "The older ones know all the words to the songs and really dance; it's hilarious to see the younger ones try to mimic them. Their favorite song is 'Brick House!'"
3. Make a game out of household chores
Pretend that dust creatures are invading earth and it's up to Captain [insert child's name] to save the day by capturing them with his broom, suggests registered dietitian Juliet Zuercher of Wickenburg, Arizona. "Make believe he's one of the Rescue Heroes, and have him save his teddy bears from the slimy pit of the floor by putting them safely in his toy chest," she says. Jodi Arlen of Bethesda, Maryland, turns folding laundry into a guessing game. "It started when my daughter would ask, 'Is that mine?' and it grew into 'Guess whose this is!'" she says. After her daughters, 3 years old and 20 months old, correctly identify the clothing, they help fold them.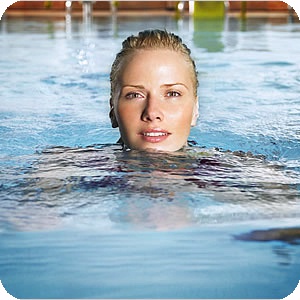 4. Sneak workouts into other activities
Have your toddler walk instead of riding in the cart at the supermarket, and take the stairs or walk up the escalator whenever possible. Nancy Twigg of Knoxville, Tennessee, drives partway to her daughter Lydia's preschool, parks the car, and walks the rest of the way.
5. Turn TV commercials into fitness breaks
Invent silly names for simple exercises like squats, push-ups, and sit-ups, and then do them together till the show comes back on. "Call them princess sit-ups or Bob the Builder muscle builders," says physical therapist Peter Kofitsas, of New York City, who does the moves with his 4-year-old and 20-month-old daughters. You can also play "coach," in which you take turns "ordering" each other to "drop and give me five," or "follow the leader," in which one person leads the others in fun, simple moves like clapping, wiggling, and marching.
6. Have a weekly sports night
Every Wednesday, for example, get everyone up and moving. One game to play is the fit-deck shuffle. Create a series of playing cards featuring family-friendly exercises, such as bear-crawling or ape-walking. Each family member picks a card and performs the exercise pictured until all the cards have been dealt. You can also buy a ready-made set of exercise cards from FitDeck (fitdeck.com).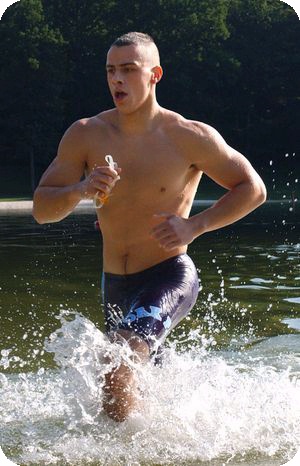 7. Walk or run for charity
Model the value of exercise-and of giving back to society-by teaming up with your children for a fund-raising race. When her husband and father-in-law participated in the Father's Day Race for Prostate Cancer, Jodi Zielinski, of Upper Montclair, New Jersey, took her 3-year-old daughter, Noa, to watch them run. When the race was over, she entered Noa in the kids' race that followed. "She didn't win but she had a great time," says Zielinski, who hopes to make it an annual family tradition.
8. Put kids to work in the yard
If autumn brings down leaves in your area, make a game out of catching them on a windy day-see who can catch the most yellow, orange, or red ones, suggests Zuercher. Then rake them into piles-give the kids child-sized rakes so they can help-and have fun jumping in them, or take turns completely covering one another in leaves. After a snowfall, let kids help clear the porch or walkway, then see who can make the most snow angels. Older kids can help build a snowman-and even toss a few snowballs.
9. Team up for gardening
Kids are great at digging up dirt, so let them turn over the soil and help you plant new bulbs. Research shows that gardening is as good as weight training when it comes to preventing osteoporosis, and if you're planting vegetables, it can make them more appetizing to kids. Dawn Schwartz, of Livingston, New Jersey, has her 3-year-old daughter, Samantha, help water the plants. "She loves to mush her hands in the soil," she says. In the summer, set up a sprinkler to water the lawn and challenge kids to duck the droplets.
10. Walk the dog
New research from North American Association on the Study of Obesity shows that dog-owners had more fun losing weight and were able to keep it off longer than non-pup-owners. Don't have a pooch? Go look for some. Somers, New York, mom Mary Rose Almasi gets her two kids, ages 5 and 3, to go for a walk after dinner by suggesting they go "looking for dogs." "Luckily, there are a few at the end of my long street. That's the carrot I dangle," she says. "It works like a charm."
---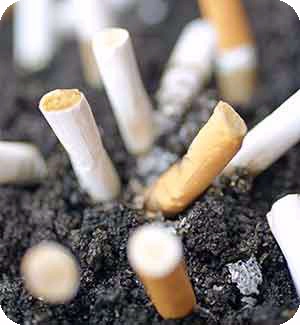 Cigarettes Get A Technological Facelift
There is a new cigarette available in Ontario and its going to dramatically change the industry. It may even spell the end to traditional cancer-causing cigarettes.
Imagine smoking without the smoke? Or the cancer? Or the horrible stench?
Three Ontario entrepreneurs have created a smokeless and tobacco-free cigarette and are hoping to capitalize on the province wide smoking ban.
The Revelle Prestige looks and acts like a cigarette, but without the harmful side effects... Read more...
Young people can stop deadly diseases with diet, exercise
Young adults in mid-Michigan have been given a gift that could save their lives -- the chance to prevent one of the nation's leading killers. Heart disease kills more people in Midland, Bay, Saginaw, Isabella and Gladwin counties than it does on a national average, according to a 1999-2003 study by the Centers for Disease Control and Prevention.
Young adults, don't stop reading, because doctors say prevention must begin in youth, since arteries of people in their teenage years can contain the plaques that cause heart disease and eventually heart attacks.
"With the way that our culture is, with our genetics, the things that we eat, consume, smoke and whatever else, we're definitely starting this process at a young age," said Dr. Susan Sallach, a cardiologist at St. Mary's of Michigan. "We see people with chest pains younger and younger all the time, so it's definitely important."
In mid-Michigan, the increased death rate could be from a sedentary lifestyle, a greater rate of smoking and even the state's poor economy, which can cause more people to turn to the less expensive foods that tend to be worse for the body.
No matter the cause, local doctors are taking note of the deadly trend and want area residents to turn it around.
Why stop heart disease?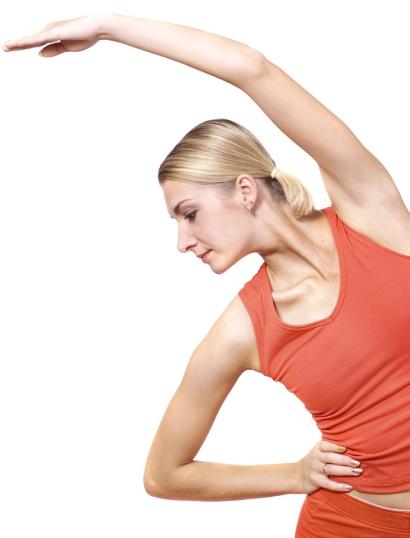 It's better to prevent heart disease than deal with damage later on.
Just ask Ray Fryar, the 59-year-old principal of Jefferson Middle School in Midland. It was the fall of 2003 when he began progressively losing energy, and then felt a pain grow in his stomach.
The pain got so bad he had to leave a meeting at work, thinking he might be able to sleep it off. The next morning he discovered you can't sleep off a heart attack, and was rushed to the hospital for emergency treatment.
"Once you've had the heart attack you can have irreparable damage that you can avoid," he said. "If you can avoid that attack in the first place you're so much further ahead of the game."
Sallach, who works with new cardiac MRI imaging technology at St. Mary's, agreed.
"To have the choice to do things that can potentially prevent problems down the road -- what a huge advantage; what a gift," she said.
Sallach said it comes down to knowing personal risk factors and family history, as well as beginning to take better care of the body.
Risk factors for heart disease include high blood pressure, diabetes and high cholesterol levels. Keeping those in check could go a long way in preventing major problems later.
Knowing each parent's heart health also matters. If either parent had a heart attack early in life, it ups a person's chance of having one, too.
Taking care of the body is another key factor, but it's also a tough one. Sallach said everyone falls victim to being a couch potato or grabbing convenient fast foods, but it's important to get back on the path to good nutrition and exercise.
Take it one step at a time
Improving heart health begins with finding fun ways to get moving, along with eating meals with better nutritional value.
"Finding novel and innovative ways of exercise is an important part of keeping doing it," Sallach said. "If you don't like it, or you pick something you hate doing, you're not going to stick to it."
She's even heard of people making workouts a social event, where people focus on the interaction with friends and happen to be getting their exercise in at the same time. The recommendation is 30 minutes of brisk exercise most days of the week.
Then there is eating right, with the most important point being moderation, Sallach said. It also includes avoiding foods high in fat or containing trans fatty acids and saturated fats.
"I think you can probably eat healthy for a reasonable price if you're willing to take the time to do it," she said. "That's the major thing, because most people want pre-prepared meals, frozen meals, canned foods. They want quick meals, and that's where you lose the quality of food and quality of nutrition."
Staying healthy also means giving up smoking.
"Even a little bit of smoking is bad. It still increases your risk for stroke and heart attack, as well as cancer," Sallach said. "There's no amount of smoking that's acceptable, and secondhand smoke counts, too."
Staying away from recreational drugs also is vital, since they can speed up the blockage of arteries and damage the heart muscle itself.
"Those are things that are important for a younger age group to think about," Sallach said. "Everything that you do will have a consequence at some point. It may be mild and go unnoticed, or it may be severe and life changing."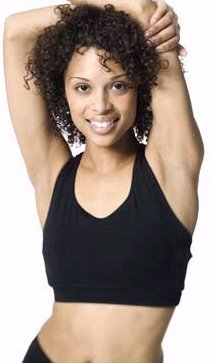 Fight Cancer with Exercise
Someone with a family history, who smokes, has a high-fat diet and doesn't exercise, says oncologist Dr. David Nanus, who has been treating cancer patients for more than 20 years.
"If you're obese or overweight, you have an increased incidence in a number of cancers ó colon cancer, prostate cancer, breast cancer," Nanus says.
According to the American Cancer Institute, about one-third of cancer deaths in 2006 were related to nutrition, physical inactivity and being overweight or obese ó and therefore, could have been prevented.
So what can you do to reduce your risk?
Start by eating a diet that contains lots of fruit and vegetables. For example, studies show broccoli, especially broccoli sprouts, may help prevent colon and rectal cancer.
You can control your lifestyle, but not your family history. Five to 10 percent of all cancers are strongly hereditary. There are genetic tests for some kinds of cancers including breast, colon, and ovarian.
"It's important if you know you're from a cancer family, then you need to get screening," Nanus says.
Nanus believes those mammograms after age 40, and colonoscopies after age 50, may be the most powerful weapon in the battle against cancer.
"The biggest problem is the fear factor," he says. "People are so afraid of being diagnosed with cancer they wait." Nanus says waiting even three months can mean the difference between life and death.
Tone up memory with exercise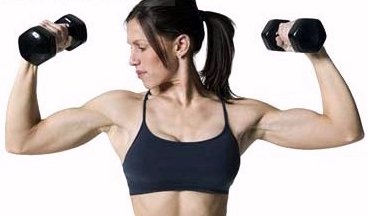 Exercise, researchers have found over the years, appears to help people fight the memory loss that comes with aging.
A new study suggests a possible explanation for why this is so. The report, which appears online in the Proceedings of the National Academy of Sciences, says working out may stimulate the growth of neurons in a part of the brain associated with memory loss.
Researchers at the Columbia University Medical Center, using 11 volunteers, an MRI machine and equipment like treadmills, were able to see that blood flow increased to the hippocampus part of the brain as the volunteers exercise, suggesting that working out may help produce neurons in a part of the hippocampus that loses them disproportionately as people age.
The researchers also found that as the volunteers went through a three-month exercise period, their scores on memory tests went up.
How To Improve Your Health Quickly And Correctly
Oftentimes, people want to get healthy but don't make attempts to do so. The hesitation to get healthy can result from many factors, including uncertainty regarding whether the strategies deployed will actually generate substantive results. Another issue for many people is a perceived lack of time to focus in on making lifestyle changes that will facilitate wellness. Irrespective of your rationale for avoiding your health journey, now is the time to stop procrastinating. To start improving your health quickly and correctly, consider deploying some or all of the following strategies:
1. Utilize Supplements.
If you're serious about improving your health quickly and correctly, consider the value of utilizing supplements. Supplements are important in light of the fact that most people have at least a few (and in many cases several) nutritional gaps. These gaps can include anything from a lack of calcium to insignificant amounts of iron and protein. By filling these gaps with supplementation, individuals can attain and maintain the physical vitality and mental clarity necessary to feel good, look great, and optimize productivity in the work setting. Note that you can buy magnesium supplements online from Health365 if this is a mineral you don't regularly obtain adequate amounts of.
2. Exercise (Indoors And Outdoors).
A second strategy you can deploy to improve your health quickly and correctly is exercising both inside and outside. There are specific wellness benefits that result from engaging in physical activity while outside. Some of them include decreased depression, anger, confusion, and tension. Research studies find that outdoor exercise is more effective in combating these negative mental states than indoor activity, but there are still benefits of working out inside. One of them is being able to use weight-lifting equipment. Also note that natural disasters and weather issues like a thunderstorm or heavy rain might preclude you from exercising outside. When this is the case, you'll want to have somewhere else you can go to get in the physical activity you need to feel your best.
Conclusion
If you're sick of feeling lethargic, dealing with chronic illness, or struggling with some other negative outcome that results from substandard health, now is the time to implement techniques that will facilitate wellness. Both utilizing supplements and exercising inside and outside are relatively fast, simple ways to help you start experiencing higher levels of mental and physical well-being. Start using these techniques immediately so you can begin obtaining substantive results soon!
Preparing Over The Weeks Before Plastic Surgery
Plastic surgery can enhance your self-esteem and change the way that you look if there are any issues that you see or that you're worried about other people seeing. There are various types of plastic surgery. Most are elective procedures, which means that you make the decision to have the surgery performed. However, there are a few procedures that plastic surgeons in Raleigh North Carolina could deem medically necessary. These procedures are often covered by insurance compared to those that are voluntarily desired and are sometimes medically necessary to protect areas of the body or to improve certain functions.
About two weeks before the surgery, stop smoking and drinking. You should also stop taking any kind of anti-inflammatory medications whether they are over-the-counter or prescribed. Medications of this kind can make the blood thinner and make it difficult during the recovery process because the blood is thinner than normal. Someone will need to be available to take you home on the day of the surgery. Depending on the kind of surgery you have, you might need to have someone by your side for the first 24 hours or even for a few days to make sure you're recovering properly. Stock up on books and other items that will keep you busy while you're recovering.
A few days before the surgery, start drinking plenty of water and eating healthy foods, especially those that are high in protein. These will help circulate the blood in the body and allow for more energy to be stored that you can use as you'll likely not be able to eat much or not feel like eating much the day of the procedure and shortly after. Remove any acrylic nails, and avoid shaving until the surgery day as the surgeon will usually prepare the area as it needs to be for the procedure. Get any medications for pain or infections that the doctor has prescribed as well as any other medical supplies that you're going to need during the recovery process. It can be a challenge to make sure everything is in place for your plastic surgery, but you'll enjoy the rewards of the procedure.
Reasons Why You Need Health Insurance Coverage
A lot of people, especially younger adults, wonder why it is even necessary to pay for health insurance coverage. If you are a healthy adult, it can seem like you will just be paying high monthly premiums for nothing. However, health insurance coverage, such as the plans from Health Insurance Innovations, is necessary to have. You never know when you will get injured or sick and will be thankful you have some coverage to fall back on such as the plans you can find from the company Health Insurance Innovations. Skipping out on some health insurance to save a little money is not the smart way to go. Below are some of the top reasons why people need to get health insurance coverage for themselves and their family.
No Insurance Is More Expensive Than Having Insurance
In the event that you have to have a procedure or get a serious illness, the cost of any procedures without insurance can get up into hundreds of thousands of dollars. If you compare that to a mortgage payment, you could be paying a couple thousand a month towards hospital bills when you have to pay out of pocket. You may have to pay a few hundred a month towards your insurance, but that is much better than having to get sick and cover any hospital bills out of pocket.
Having No Insurance Impacts Everyone
When people who don't have health insurance get ill, they tend to wait until their condition gets so bad that they end up having to go to the emergency room. This means that there will be larger bills from the facility and doctors which will most likely go unpaid. To recoup those lost funds from uninsured patients, hospitals often have to change the cost of their services for everyone, insured and uninsured.
Preventive Care
People who have health insurance coverage are more likely to get illnesses checked out and caught earlier before it is too late. Additionally, those with coverage will usually get their annual checkups and other types of diagnostic exams to catch serious conditions and illnesses before they cannot be treated anymore.
Self Worth
Many people are good at making sure they have insurance on their homes, cars, boats and other material possessions. However, so many people are quick to dismiss the need to insure themselves. While vehicles and homes can be very expensive to repair and fix, a person costs so much more and is indefinitely more important than any material things.
New Careers
More and more colleges are making it a prerequisite to have health insurance to attend. So many people are heading back to college years after high school in order to advance in their careers and can't until they pay for health insurance.
Health insurance may not be cheap and easy to figure out, but not having health insurance can quickly turn your life upside down if you become sick or get injured. It is worth budgeting and comparing plans to find a good health insurance plan that will suit you and your insurance needs the best. There are many places online to compare plans and find one that you can afford and begin taking advantage of immediately. Your health is important and insurance should be taken seriously.
Pursue Optimal Vitality Now With These Tips And Techniques
Although defined diversely, vitality is essentially a physiological condition in which an individual maintains high levels of energy. Some of the byproducts of optimized vitality include clearer thinking, more stamina in high-pressure situations, and better memory. As one might gather, maintaining vitality throughout the day can lead to an optimal professional and personal life. Yet many people don't implement the lifestyle changes necessary to start reaping the results. You should. And if you're ready to get the lifestyle change process underway right now, you can use the tips found below:
1. Abandon The Western Diet.
Many holistic health and wellness teachers are now passionate about discussing the benefits that result from eating a plant-based diet. This diet is diametrically opposed to the Western diet, which contains high volumes of processed foods that lack fiber and essential nutrients. The plant-based diet is a wonderful alternative to this conventional diet because it comes packed with fruit and vegetable-based fibers as well as the wide range of minerals and vitamins that these foods contain. Thousands and thousands of people all over the world have noted dramatic health improvements from being on this diet, and many report substantive changes within a matter of mere weeks. Some of the more commonly reported benefits of the plant-based diet include seemingly effortless weight loss, mental clarity, and more stamina throughout the work day.
In addition to abandoning the Western diet, consider the value of addressing any hormonal imbalances you may have. This step is important because hormonal imbalances can stagnate weight loss and cause multiple other physiological problems that compromise your well-being. These days, many companies specialize in providing HRT for women. Global Life Rejuvenation is one of these companies.
2. Access The Power Of The Mantra.
In addition to abandoning the Western diet, make sure that you tap into the power of the mantra. This form of meditation involves quietly, calmly saying affirmative things within yourself. Many meditation teachers have noted that their students experience profoundly powerful results from this form of mental engagement, some of which include higher self-esteem and the ability to remain calm in stressful situations. Some of the mantras that you may want to start repeating within yourself include "I love myself" and "I am worthy." Note that you don't have to be sitting on a yoga mat in a quiet region of your home to do the mantra. You can recite it while at a stop light, as you're standing in the checkout line in the grocery store, or as you jog in the gym. Any time when you're able to think independently is a great time to focus your mental power on reciting the mantra. The end result is greater mental health and more inner confidence!
Get On The Road To Vitality Now!
There are many steps you can take to optimize your vitality. Some of them are listed above. Start making behavioral changes today so you can attain the high levels of energy and stamina that enable you to realize your dreams and enjoy every moment of each passing day!
How To Find The Right Medical Professional
Throughout the course of life, people will face periods in time during which they experience an unwanted health complication. This could be something minor like constipation, or it could involve a serious, life-threatening condition such as diabetes. While there are some people who go through life without ever experiencing a health complication, this reality is quite rare. As such, people who want to lead healthy lives need to find medical professionals who can offer preventive care while also providing them with accurate diagnoses and treatment plans for their existing conditions. To ensure that you can find the right medical professional to do these things, implement the following steps:
1. Research The Medical Professional Via Internet.
One of the great benefits of the internet is that it enables you to do extensive research on almost any business under the sun. This includes medical establishments. As such, you want to take the time to do your internet research so that you can obtain as much information as possible about the various medical facilities and professionals in your local community.
You can start the internet search process with the use of a relevant, highly specific key phrase like "Locate Medical Professional In (My City/State)." After you click the "Enter" or "Return" button, you'll be relocated to a page that is oftentimes called the search engine results pages (SERPs). From here, you can click on various hyperlinks and then be redirected to the business website of various medical companies. While on the site, you can obtain basic information such as what types of credentials and qualifications a doctor has. You may also be able to learn what the doctor's specialties are as well as how long the facility has been in operation.
2. Read The Medical Professional's Online Reviews.
In addition to doing research about a medical professional through the business website, make sure that you read her or his online reviews. This step will help you determine what former and current patients think about the quality of services they are receiving while in the medical facility. Once you read through the reviews, you should be able to figure out whether the medical professional in question will be able to offer you the customized, high quality wellness services you're seeking out.
An Important Side Note
In many cases, people need a medical specialist in addition to a generalist. An example would be a gynecologist. If you find yourself in need of gynecological care in preparation to deliver a baby, professionals such as Dr. Max Izbicki can assist you. Max Izbicki is also effective in providing clients with treatment services for numerous gynecologic conditions.
Find The Right Medical Professional Today!
People who want to lead healthy lives should know that they will take a big step towards realizing the goal by finding the right medical professional. To ensure that you can locate the ideal professional, make sure to review the information and instructions outlined above.
Get Rid of Stress the Natural Way
Stress is nothing new. Since humans have been alive, stress has been around. We seem to have fallen into the trap of thinking that life is so difficult today that stress inundates every aspect of our existence, but the reality is that this is really nothing new. The good news is that there are many ways to relieve stress naturally without having to resort to medication or other techniques that could be damaging to one's health in the run. RediCalm is one such way to get on the path to peaceful living once again.
Take Time for Yourself
If you think back to the hunter gatherer days, humans have always depended upon one another for survival. Today, you might feel the weight of that dependence and that is causing you a great deal of stress. It is precisely during those times that you need to find for yourself. This might be found in the form of taking a nice hot bath after everyone else has gone to bed, taking the family dog on a walk by yourself, or just locking the door to your bedroom to mediate for awhile. Whatever you decide to do, the important thing is to treat yourself to something special that you enjoy. This will be one the biggest stress relievers that you will ever experience.
Consider Natural Supplements
Humans have also been living off the land for thousands of years. Many of those same plants and fruits that we have been consuming for all that time are now known to help ease the stress and anxiety that we feel. Natural supplements such as RediCalm are known to ease the internal pain that our body often feels, and elevate our emotional state to the point that we can be calm and peaceful once again. Because modern society does not tend to consume enough of natural food items on a regular basis, these supplements can really provide you with the boost that you need. They are all natural and they effectively serve to regulate the chemical state of your body to help remove the stress that you might be experience.
Live a Victorious Life
Everyone has the right to live a victorious life, but stress often gets in the way of that. You will want to perform various exercises that help you get rid of that stress and get you in the right frame of mind to begin living life to the fullest once again. You can take the kids out to zoo or you can go out on a date with your significant other. Sometimes we just need to get out of our normal routine and do something special. If you are worried about something, remove yourself from that situation for a time. Many people lose sleep over difficulties that they are facing. Those same problems will still be there in the morning, so get a good night's sleep and deal with it definitively in the morning once you are rested.
While stress will likely always be with us, we do have tools and resources to help us deal with it naturally. Take time to determine what works best for you and then set out to put this into practice the next time that life seems to really get you down. You can live the victorious life that you were destined for.
Mental Health and Psychiatry
Psychiatry has been given a black eye over the decades. Many critics have said the industry does nothing but make zombies out of patients due to overmedication. This couldn't be further from the truth. In many cases, it's psychiatry which mitigates and possibly prevents damage to patients or others. What you need to figure out is if psychiatry is the right avenue for you or if a mix of general therapy and primary health care can help resolve your issues.
Gather More Information
The first thing needed before searching for a psychiatrist is to do your homework. Sites like BehavioralHealth2000.com offer a plethora of data on neuroscience issues and clinical research in psychiatry. This gives you a platform to measure the pros and cons of the practice, the latest science connected to the brain, and information on various behavior medicines.
Determine What Helps You
Many behavioral issues connected with the brain are a result of natural chemicals like serotonin and dopamine being in short supply. The lack of these can result in depression, anxiety, ADHD, and many more issues. Both of these chemicals can be regenerated or released in many cases with proper exercise and a healthy diet. In addition, more holistic treatments like meditation, yoga, or Emotional Freedom Techniques (EFT) may help with the flow. You need to determine if any of these have helped you in the past or if they can help you now.
If Nothing Helps ...
Should diet, exercise, or natural techniques not help with your issues, then it may be time to work toward a psychiatric solution. A few things on this. First, you may not be able to see a psychiatrist without going to your primary health provider first. They shall determine if a referral is needed after a checkup which may include a measure of brain activity. Second, you may not get medicine after the first session. There may be a few sessions where the psychiatrist determines your symptoms and needs.
Third, getting the medicine is not the end of treatment. While it helps you feel immensely better, it's only half of the solution. Continued therapy to figure out the possible reasons the medicine was needed have to be hashed out. In addition, the psychiatrist may want to increase or decrease dosage as they see progress. Always work with these professionals for better mental health.