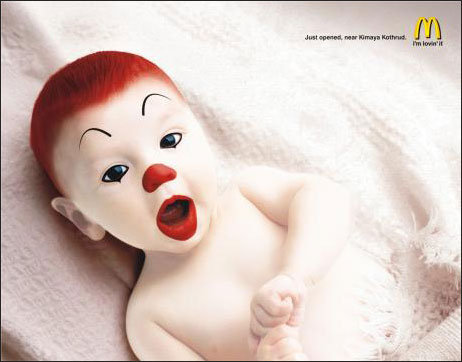 McDonalds promises 'healthy ad campaigns' for kids
February 2008.
Some of Canada's largest food and drink companies, including heavyweights like McDonald's, Coca-Cola, Kellogg and Kraft, are promising not to advertise directly to children, and if they do, they will only promote their healthier products.
Those companies, and a dozen others, signed on last year to the Children's Advertising Initiative, a voluntary effort designed to shift the way companies advertise to focus more on healthy food choices and healthy living. Details were released on Wednesday about what each of the 16 companies is pledging to do in order to meet its commitments under the campaign, which covers print, broadcast and Internet advertising.
Tony the Tiger and Ronald McDonald aren't joining the unemployment line, but they are more likely now to say exercise is gr-r-reat and to plug apple slices instead of french fries because of what the companies have promised.
Cadbury Adams Canada Inc., Coca-Cola Canada, Hershey Canada Inc., Janes Family Foods Ltd., Mars Canada Inc., McCain Foods Canada, PepsiCo Canada, and Unilever Canada Inc., have all said they will not directly advertise to children under 12.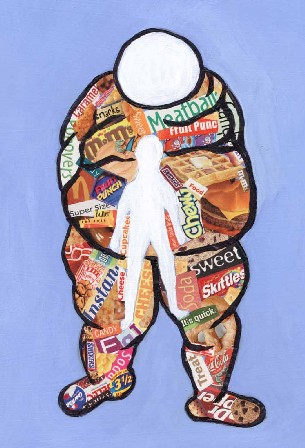 Campbell Company of Canada, General Mills Canada Corporation, Kellogg Canada Inc., Kraft Canada Inc., McDonald's Restaurants of Canada Ltd., Nestle Canada Inc., Parmalat Canada Inc., and Weston Bakeries Limited on the other hand, promised to centre 100 per cent of their children's advertising on healthier products that meet government nutrition guidelines.
These are the companies that sell potato chips, chocolate bars, burgers, fries, soft drinks and other junk food and they often take the blame for Canada's rising childhood obesity rates. In the last several years they've introduced new product lines, re-formulated their foods to make them more nutritious, developed their own campaigns encouraging children to play sports and be active or have partnered with organizations like Participaction, and sponsored events like the Olympics.
This latest initiative is another demonstration of how committed they are to fostering healthy lifestyles among children, says Diana Carradine, executive director of Concerned Children's Advertisers. She believes the companies are genuine in their concern about childhood obesity and that with such major corporations involved in the initiative, it will make a significant difference in the fight to reduce it.
"The 16 companies that are participating in this announcement represent an overwhelming majority of the food and beverage advertisements on children's programming today -- approximately 90% based on our best educated guess," said Ms. Carradine. "Obesity is a complex societal issue and no single factor has caused it and no single solution will resolve it but Canadian food and beverage companies are committed to play as active a role as they can to promote healthy lifestyles and healthy active living."
The companies also promised that in interactive games on their Web sites they will only incorporate products that meet the Children's Advertising Initiative criteria. They similarly promised to only use third party licensed characters, from TV shows or movies for example, if they are in advertising campaigns for healthy foods.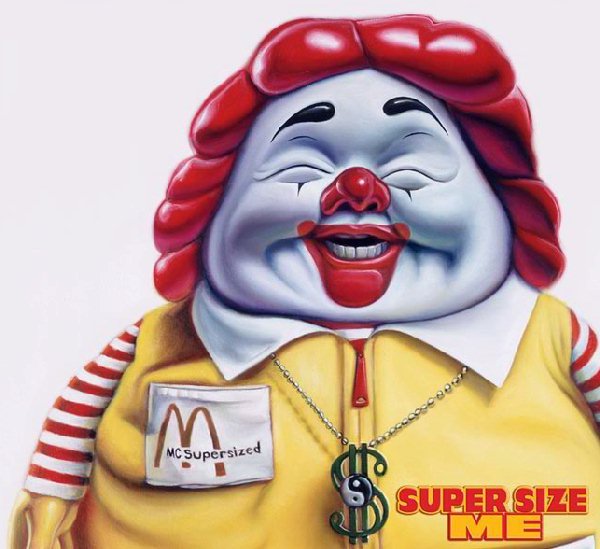 The initiative also covers product placement and the companies pledged not to pay to have their products incorporated into any children's TVshows or other editorial content. Some of the corporations were already following existing rules about advertising in elementary schools but under the initiative all 16 agreed not to do it.
The companies have already started to change the way they advertise to children and will be in full compliance by the end of the year. After 2008, if the companies want to make any amendments to their promises, they are required to notify Advertising Standards Canada, the industry body that will oversee the Children's Advertising Initiative.
The food companies won't be able to get away with making empty promises either, because Advertising Standards Canada will audit their compliance and publish annual reports for the public. All of the promises can be viewed on the Web site www.adstandards.com.
Ms. Carradine said Canada has some of the most stringent rules in the world for regulating advertising to children and this initiative makes the system even stronger.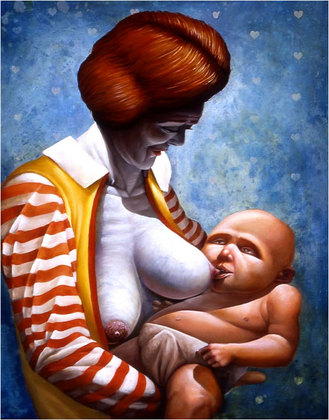 Obesity-related Strokes
February 2008.
Middle-aged women in the U.S. (those between the ages of 35 and 54) are having more strokes than ever, a trend researchers blame on the growing obesity epidemic and too many working women eating out at McDonalds and other fast food restaurants.
About 1.8 per cent of women ages 35 to 54 reported suffering a stroke in the most recent federal health survey, from 1999 to 2004. In the previous survey, from 1988 to 1994, only 0.63 per cent reported strokes.
Strokes most often occur in older people, so the sudden spike in middle-age and the reasons behind it are worrisome, say doctors participating at the American Stroke Association's International Stroke Conference 2008.
The tripling of cases in this "pre-stroke population" is "an alarming increase," said Dr. Ralph Sacco, neurology chief at the University of Miami Miller School of Medicine.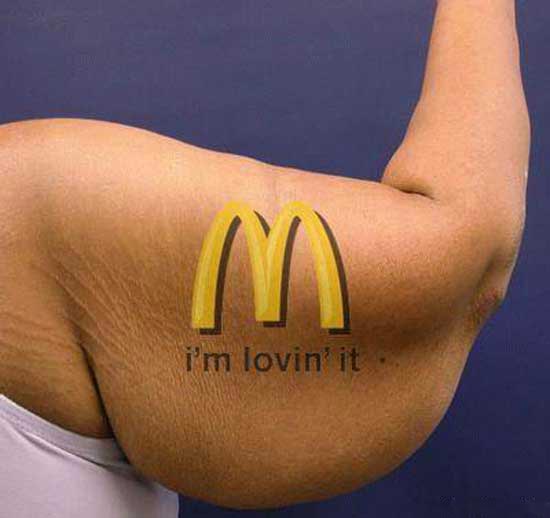 The spike in middle-aged strokes happened even though more women in the recent survey were on medications to control their cholesterol and blood pressure, steps that should lower the risk of stroke.
Almost 15 per cent women in the more recent survey reported using medications to lower blood pressure, compared to 8.9 per cent in the earlier survey. And nearly four percent of women in the more recent survey used medications to lower cholesterol, versus 1.4 percent in the previous survey.
But the biggest difference came with weight, said lead author Dr. Amytis Towfighi, an assistant professor in the Neurology Department at the University of Southern California in Los Angeles, Ca.
Women in the more recent survey were significantly more obese than women a decade prior, with an average BMI of 28.6 versus 27.1 the decade prior.
A BMI of 25.0 to 30.0 is overweight, while BMI of 30.1 or more is obese.
"In addition, women in the latest survey had an average waist circumference of nearly four centimetres more than women in the earlier study.
"Abdominal obesity is a known predictor of stroke in women and may be a key factor in the midlife stroke surge in women," Towfighi said.
Obesity Rates in America Skyrocketing
Since the mid-seventies, the prevalence of overweight and obesity has increased sharply for both adults and children. Data from two NHANES surveys show that among adults aged 20–74 years the prevalence of obesity increased from 15.0% (in the 1976–1980 survey) to 32.9% (in the 2003–2004 survey).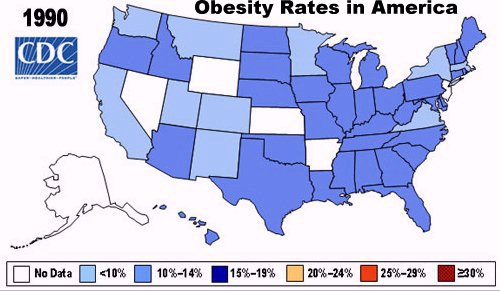 The two surveys also show increases in overweight among children and teens. For children aged 2–5 years, the prevalence of overweight increased from 5.0% to 13.9%; for those aged 6–11 years, prevalence increased from 6.5% to 18.8%; and for those aged 12–19 years, prevalence increased from 5.0% to 17.4%.
These increasing rates raise concern because of their implications for Americans' health. Being overweight or obese increases the risk of many diseases and health conditions, including the following: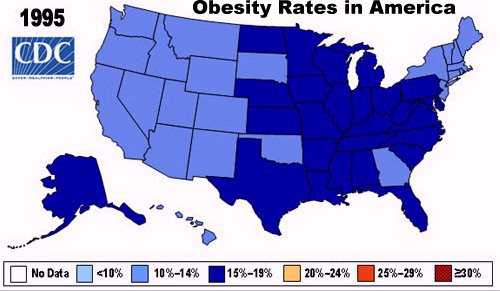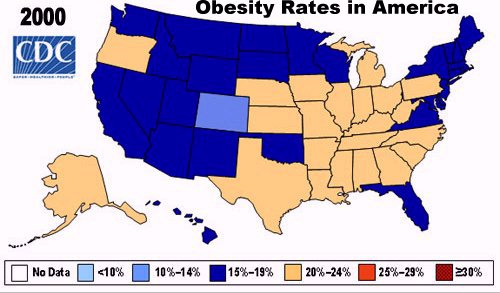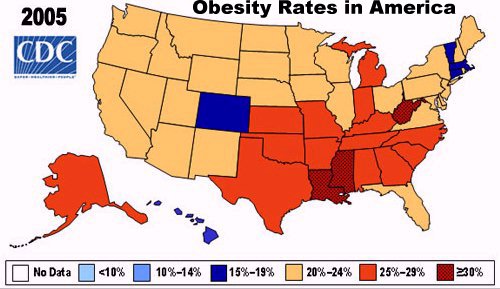 Hypertension
Dyslipidemia (for example, high total cholesterol or high levels of triglycerides)
Type 2 diabetes
Coronary heart disease
Stroke
Gallbladder disease
Osteoarthritis
Sleep apnea and respiratory problems
Some cancers (endometrial, breast, and colon)
Although one of the national health objectives for the year 2010 is to reduce the prevalence of obesity among adults to less than 15%, current data indicate that the situation is worsening rather than improving. This site provides a variety of information designed to help people understand this serious health issue and the efforts being made to address it.
Poverty and Obesity
February 2008.
Parents who can't afford to feed their kids healthy food are opting for cheap junk food and fast food instead.
Children in poor neighbourhoods are more likely to be overweight or obese than their richer peer group, and the weight gap appears to increase over time, new research shows.
Apart from differences in the quality of nutrition, an eight-year study of more than 2,000 Canadians as they matured from age two to 10 suggests the geographic area in which children live has more influence on their weight as they get older.
"Young children spend most of their time in the home, so the neighbourhood may not have as much of an impact," said Statistics Canada researcher Lisa Oliver.
But by the time kids are 9 or 10, it's more likely they're out in their neighbourhoods, which may or may not have parks, play structures or organized physical activities. Many affluent neighbourhoods have these, poorer ones often don't.
Likewise, "if it's a safe neighbourhood, they may be allowed to go out and play and be active," Oliver said. "But if it's an unsafe neighbourhood, they might not be allowed to go outside."
In recent years, childhood obesity has increasingly alarmed health professionals. The percentage of overweight children in Canada has gone from 13 per cent in 1977/78 to about 26 per cent in 2004.
The researchers in the new study used Body Mass Index to track weight differences among the young over several years, creating a more detailed record than other studies that simply provide a snapshot in time.
Working with Statistics Canada census data for neighbourhood income, the studyOs authors divided children into most poor, middle and least poor. BMI measurements were calculated every two years.
Children from poorer neighbourhoods showed the worst results at each two-year interval and the problem only got worse. At age two and year, for instance, 56 per cent of poorer children were judged overweight, compared with 52 per cent of those who were classified as least poor, a gap of four percentage points. By the time those same children were 10 and 11, the gap between the two groups had widened to 13 points.
"It does suggest that where you live has an influence on your body weight, independent of what your individual circumstances are," Oliver said, noting lower-income children tend to be clustered in the same neighbourhoods.
"This study suggests that to understand why we have an obesity epidemic, we need to look at the environment in which children live. We need more research on the dimension of food supply and what are their patterns of physical activity."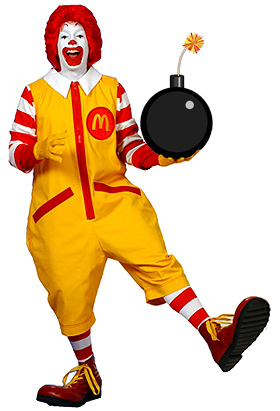 Waiting Lists for Obesity Surgery in Canada
February 2008.
Canada's obesity epidemic is now at least a decade old and the country's health system is seeing many more cases of illness related to the condition: Type 2 diabetes, heart disease, high blood pressure, and arthritis.
To combat the problem, approximately 2,000 obesity surgeries, which include gastric bypass and laparoscopic banding, are being performed annually, according to Edmonton-based Dr. Arya Sharma, scientific director of the Obesity Network.
Demand for the surgeries continues to grow, leaving many Canadians on lengthy waiting lists or exploring other options.
Gastric bypass surgery, also known as stomach stapling, involves the surgical creation of a small pouch at the top of the stomach to reduce its size. The pouch, which can only hold about 30 grams of food, is then linked to the small intestine. The procedure is done laparoscopically, meaning there is no need to cut the entire abdomen open — only tiny incisions are made.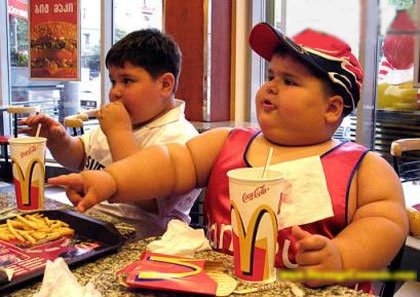 In laparoscopic banding (lap band surgery), an alternative to gastric bypass, a surgeon inserts a doughnut-shaped device with an inflatable balloon around the upper part of the stomach. The idea is to create a small pouch, but unlike gastric bypass, the pouch is not connected to the intestine. The procedure is reversible.
Sharma says approximately 250,000 Canadians meet the criteria for the surgery. These include a Body Mass Index of 40, which means the patient is about 100 pounds overweight. To qualify, they also cannot have underlying health problems that may make surgery risky, emotional issues that will complicate recovery, have a history of drug or alcohol addiction or are on drugs that promote weight gain.
They are also advised that the procedures carry risks, such as one death in every 200 to 300 surgeries, blood clots, leaking at one of the staple lines in gastric bypass surgery and intolerance to certain foods.
For those who are good candidates for the procedure, the success rate is high, according to Sharma.
"The results of obesity surgery for the majority of patients are actually quite spectacular," he told CBC News.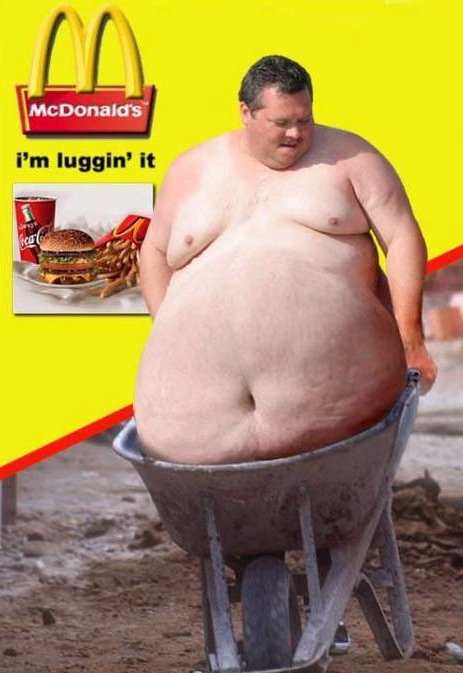 Canadians seek surgery abroad
Though the total number of Canadians waiting for provincially-covered obesity surgery is unknown, demand has forced patients to travel outside their home provinces. Ontario alone has sent almost 400 patients to the U.S. for obesity surgery in the last 10 months.
Sharma says the long waiting lists are taking a toll. "Having to wait too long when you have a disease that is severely disabling and causing health problems is never a good situation.
"There's a lot of people out there who could really benefit from obesity surgery."
Nancy Kurtz, an Ontario resident, has seen a decided improvement in her health since having the surgery. Before she had obesity surgery last year, Kurtz weighed 123 kilograms (270 pounds).
Kurtz was told she'd have to wait three to five years to have the surgery in Canada, forcing her to explore other options. She took her savings and headed to India where doctors performed a gastric bypass.
She now relishes the sensation of being full. "It was a revelation to me. I thought: 'Well no wonder the rest of the world stopped eating, when you feel like this,'" she says. She has lost 109 pounds.
Ontarian Jackie Mohammadi has waited two years for her surgery. She weighs just over 300 pounds, and rarely leaves her apartment. Opting for gastric bypass, surgeons will close off her stomach and leave her with a small pouch the size of a thumb. And she will need much less food.
"You eat and you feel full. And then you don't eat as much," says Dr. John Hagan, a bariatric surgeon at Humber River Hospital in Etobicoke, Ont.
NOTE: WE REALIZE THAT MCDONALD'S IS NOT THE ONLY SOURCE OF FATTY FOOD. THERE ARE PLENTY OF OTHER FAST FOOD AND JUNK FOOD SOURCES OUT THERE. MCDONALD'S IS SIMPLY THE MOST EASILY RECOGNIZABLE ONE, AND THE ONE MOST POPULAR AMONGST CHILDREN (WHICH IS WHERE BAD EATING HABITS START).
WE ENCOURAGE PEOPLE TO THINK TWICE ABOUT THEIR FOOD CHOICES EVERY DAY. YOU CAN TURN YOUR LIFE AROUND.
i'm lovin' it.