Lose Weight by Working
The Health eZine - Fitness
---
This Website is Best Viewed Using Firefox
Working the Fat Away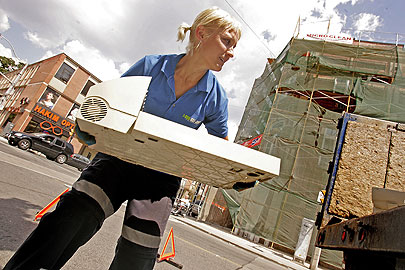 August 28th 2007.
Forget the gym – your best workout may be your summer job.
Samantha Lavenuik, 26, has a washboard stomach, biceps to die for and a 28-inch waist thanks to the gruelling work of tossing people's trash for eight hours a day for 1-800-Got-Junk?
The only female in the company's Toronto office, the 5-foot, 10-inch Lavenuik has seen her weight drop from 160 pounds to 129 since she started the job in April.
"I've got muscles I didn't even know I had," jokes Lavenuik, whose previous job was running a video store. "I've gone from an XXL shirt to a small and the small is even too big for me. Everyone's amazed. I can lift the couch up by myself, no problem. I have abs."
Running up and down stairs carrying heavy boxes, tossing debris into a truck, smashing a cast-iron bathtub with a hammer and removing it in chunks have all contributed to her total body make-over.
Hard physical labour has accomplished what five visits to a gym each week could not, marvels Lavenuik, who dropped her membership two months into the job. She plans to enter a paramedic program at Seneca College next fall and says she deliberately picked a physical summer job to help prepare for her future career.
In the meantime, she's happy with the work. "Sadly, I really enjoy moving people's garbage."
Lavenuik is among Ontario's 500,000 college and university students who each summer scramble for jobs that will help pay tuition and rent for the next school term.
Some are lucky enough to land work that gives them experience in professions they're pursuing. Others luck into jobs that help them get in shape.
Health-conscious Jessie Barrett, 19, who is majoring in sports management at Brock University in St. Catharines where she plays varsity soccer, purposely sought a physically challenging job for the summer. Other jobs she'd had in a grocery store and as a sales clerk in retail did not keep her active enough, she felt.
Working in Cudmore's Garden Centre near her home in Oakville, Barrett hauls bags of dirt, carries large plants and shifts display cases. She's getting buff.
"I notice a big difference in my arms; they're toned now. I've never been able to see my muscles before," says the 5-foot-1 Barrett, who has dropped from a size 4 to a size 2.
"I feel I look a lot better in a bathing suit," says Barrett, adding that she also has a serious farmer's tan. "I feel good. I'm tired at the end of the day. I sleep a lot better. It's all about healthy and active living."
Lifeguard Ramata Tar Wally, 18, is also no longer carrying around that "freshmen 15" she picked up during her first year in residence at the University of Guelph. The effects of too many nacho chips just melted away under hours of lap swimming each day while leading swimming lessons for the City of Toronto.
On top of that, she swims one kilometre three or four times a week as part of a personal fitness program.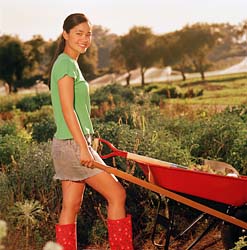 "I find it a lot easier to ride my bike to work. I'm not out of breath," says Tar Wally, who lifeguards and instructs at the Rotary Park outdoor pool in south Etobicoke.
Working at a swimming pool has improved more than her cardio functions, she says.
"I think it has made me a better driver. Here, we do a lot of scanning – I'm more aware of things happening around me."
And working outdoors, adds Tar Wally, means she has also enjoyed the mentally uplifting effects of being in the sun.
Brandon Zoras' summer job as Scarborough camp co-ordinator, in charge of seven different camps for the City of Toronto, is literally a breath of fresh air.
Majoring in biochemistry and psychology at the University of Toronto, Zoras, 22, says, "I've read text books for so long that when I look up my vision is blurry. When I do lab reports, it can mean a whole night of work."
His summer work, meanwhile, is completely different. "A lot of the time we are playing games. You have to have the same amount of energy as the kids. If they are running, we'll all participate."
The 5-foot-7 Zoras topped 185 pounds in winter and says his pants were getting tight. Now, after running all day to keep up with active campers, he's melted away about 15 pounds.
"I feel good," he says, "even the days when I'm tired."
Organizing camp activities has been a fitness program for Charity Fowler, of Pickering. The 21-year-old history major at UofT runs the West Rouge Imagination Camp.
"I'm pretty active; I play the games with the kids." It's important for counsellors to participate, she says, so that older campers who may feel they are "too cool for school" will jump in when they see their role models having fun.
So summer is her time to get back in shape, says Fowler, who also works evenings and weekends at a garden centre where she lifts garden furniture and brings supplies out of a warehouse.
Although she's working a lot of hours, Fowler says her summer couldn't be better.
"I am much happier working outdoors than inside. I love the fresh air. I get to see the sun. I feel great."
---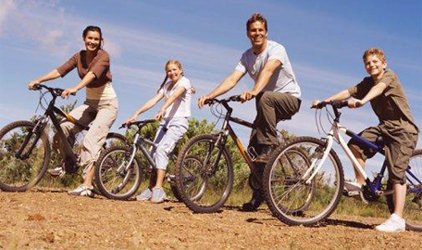 Lose ten pounds in two weeks by changing how you work
The last time I wrote about losing weight was right after I had a baby and my agent told me that I would kill my career if I went on speaking engagements. "You look terrible" is what she told me. And I lost forty pounds in two months.
This time, things were not so dramatic. If nothing else, I am tall enough that no one would notice ten pounds up or down on my body. But still, ten pounds is ten pounds. And I lost it by changing how I do my job.
Here are three changes I made in how I work that, in turn, changed how much I weigh:
1. I stopped letting work slip until the last minute.
I know people think they are creative under pressure. But in fact, time pressure stifles creativity. One of the joys of being creative is going up paths that surprise us. But when you are under a tight deadline, the risk of going down an unsure path is too risky because it might not work and then you'll miss the deadline.
I became acutely aware of this when I started blogging. The immediate feedback one gets from blog traffic made me understand that there was a direct relationship to how much pressure I felt while I was writing and how successful the post was. I also noticed that when I felt pressure to write quickly I ate to cope with the pressure.
Once I stopped writing late at night under intense pressure I ate much less at night.
2. I stopped checking email when I was with my kids.
For the most part, I maintain a schedule where I work seven days a week 8am to 2pm. Then I am with my kids from 2pm to 8pm. And I usually work after they go to bed. Almost everyone is very nice about respecting the schedule.
But still, I was checking email all day. Sometimes because I really needed to, but mostly it was a way to take a break from being with the kids. The kids are hard. Email is easy. Please, don't send me emails about how I should take the kids to the park. I'm not saying I don't love my kids. I'm saying that it's more fun to play email lottery to see if something great came in than to watch kids chasing each other up and down slides.
The worst part about checking email when I am with the kids is that I feel bad ignoring them. But the second worst part is that I sort of check out when I check email and once I check out then my junk-food guard is down, and I find myself watching kids and checking email and eating Cheetos all at the same time.
I instituted the no-checking email so that I could be more present with my kids. But the lucky side benefit was no more junk food.
3. I stopped working late at night.
The first lunch meeting I had with my first publisher was all about book marketing. We talked about how sometimes my editor thinks of a title and then asks an agent to put together a book based on that title.
"Like what?" I asked.
She said, "Like, Sleep Away the Pounds! How To Lose That Last Ten Pounds…. In Your Sleep"
"Ooooh," I said "That is a good title."
For the rest of the lunch the editor and the publicist and I all talked about that book. What it could be. The publicist pointed out that he stays up late working but he never really gets anything done except eating. He thought he should just go to bed.
I thought that was probably true for me, too. And I pointed out all the research that says the people who do not get enough sleep are at risk of being fat.
That conversation happened a year ago. And, ironically, I then proceeded to get less sleep than any year of my life because I stayed up all night doing stuff to promote my book.
But recently I decided to make a rule for myself that I have to get the recommended six or seven hours of sleep a night. This means I had to get used to not working as much. I had to decide to simply not do some of the work I had. But the life benefits have beenworth it — including giving up that extra meal that slips in between dinner and bed.
So that's how I lost the weight. And it's been very easy to keep off because I did exactly what you're supposed to do to lose weight: I changed how I live my life rather than how I eat my meals.
But here's what really gets me excited: I learned so much about self-discipline.
There is great research about how if you add self-discipline to your life in one area, self-discipline seeps into other areas of your life as well. This is important because positive psychologists are always saying that self-discipline is a key factor to making ourselves happier.
So I always want more self-discipline in my life. And I absolutely found that when I became more disciplined about how I deal with my sleep and eating, I became more disciplined about working out. For the last year I have had clear goals for regular episodes of running, weights and yoga. But I have generally failed at achieving these goals on a regular basis. Something always interferes.
But over the past two weeks, when I have been very conscious of changing how I conduct myself during the day for work things, my exercise regimen has improved as well, as a sort of unintended side-effect.
So here's my pitch to you to try something new. Try being just a little more conscious. If you become more conscious in one part of your life, you will be able to affect positive, conscious change in many parts of your life with relative ease.