This Website is Best Viewed Using Firefox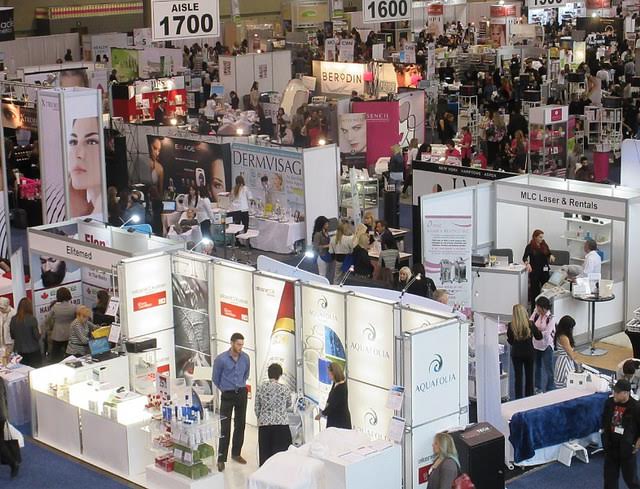 Laser Skin Care at 2016 Esthétique Spa International in Toronto
The Esthétique Spa International happened Sunday April 24th 2016 and Monday April 25th at the Metro Toronto Convention Centre. This is a real big deal for salon and spa workers all across North America. The event is the cornerstone of beauty technology and showcases the latest and greatest.
Right: Toronto Esthetique International Show, Sunday 24 April 2016.
The whole show is a beauty focused, skin care centered health and wellness spectacle. In some ways it resembles a cosmetics carnival with extremely well manicured booth bunnies calling out to passersby to come sample their miracle products. there are all manner of skin creams and anti aging elixirs. But the main attraction for me is the science, and in particular, the lasers. below is the DermVisage laser skin analysis, anti aging skin care and they have all the bases covered and are indeed the quintessential exhibitor. This little know skin care company comes to a show like this to meet people, network and book demos in salons and spas for months afterward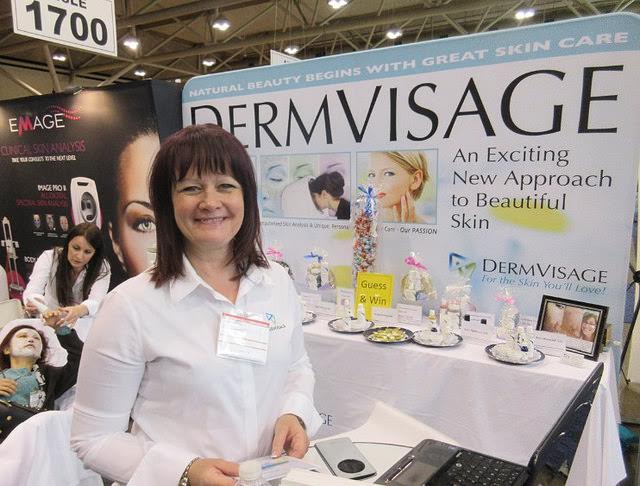 Right: DermVisage booth at 2016 Toronto Esthetiques International
This event offers all attendees but especially salon and spa business owners a good educational experience at an affordable price. Tickets are just $60 each and spa workers can get discounts on admission, hotels and service packages at the show. Just about every visitor is offered some form of on-site pampering at every booth on the trade show floor.
Below: Salon owner from Lindsay Ontario at the show, relaxes at DermVisage skin care booth on Sunday April 24th 2016.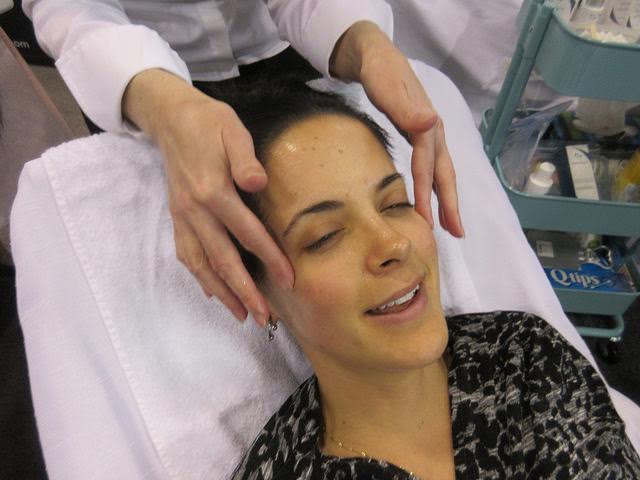 This often includes on-site make overs, free massages, beauty products and lots of literature, coupons and flyers for later research. A great many ladies we saw traveled to the show on behalf of other businesses to get literature to bring back to their 'neck of the woods' and there assume the mantle of expert or in some cases become the exclusive equipment dealer taking a cut of each sale or rental they broker.
Below: Barbara Dingman from Cynosure was on hand to answer any questions the show attendees might have about their SculptSure product line of laser equipment body sculpting apparatus. Cynosure markets the SculptSure non invasive body contouring.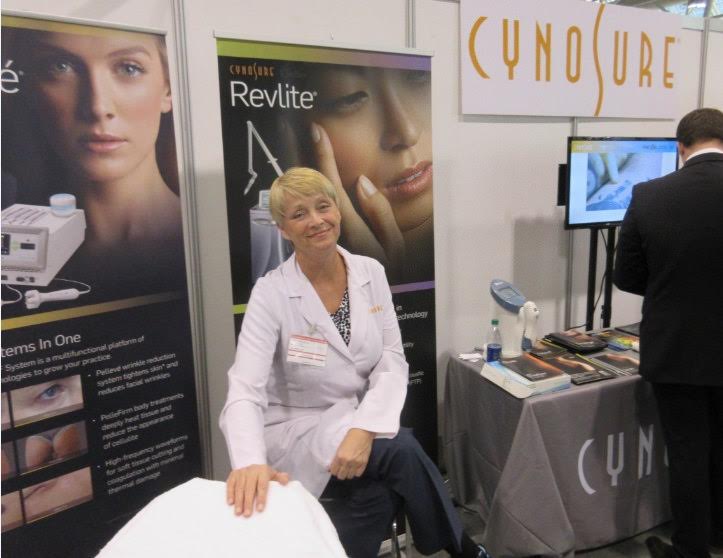 SculpSure is the world's first FDA-cleared laser treatment for non-invasive lipolysis of the flanks and abdomen. It's a state-of-the-art, controlled light-based technology used by people eager to be rid of that stubborn belly fat that hovers over the abdomen on many North American men and women.
Syneron Canada's Gentle Max Pro, Integrated Aesthetic Treatment System is billed at the 'Ultimate Workstation'. This is a versatile piece of equipment that combines the market's fastest and most powerful 755nm Alexandrite laser with an equally powerful 1064 nm Nd:YAG laser to deliver a range of high efficacy treatments including laser hair removal but it can also be used to zap benign, pigmented and vascular lesions, including leg veins.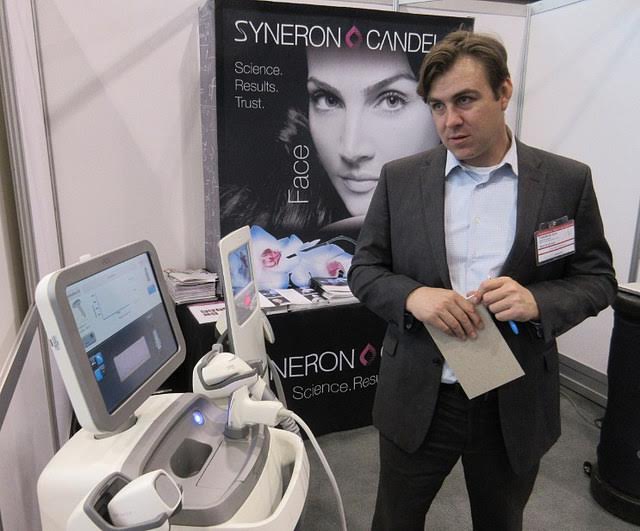 The Syneron Canada booth was very busy and the booth attendant seen above was taking names and writing orders on the notepad seen in his hands. He was having a good show..
Below, Lonnie Wallace from Emage Laser Skin Imaging Systems was also on hand, and he's something of a celebrity in the field of laser imaging, The star attraction at the emage booth he put on quite a demonstration for attendees by testing the skin on their own faces. These devices that he himself helped develop at his medical imaging company are now revolutionizing skin care because they allow both dermatologists and beauty salon workers and everything in between to more accurately diagnose skin conditions and customize a health care regime based on science rather than folk remedies or skin care fashion fads.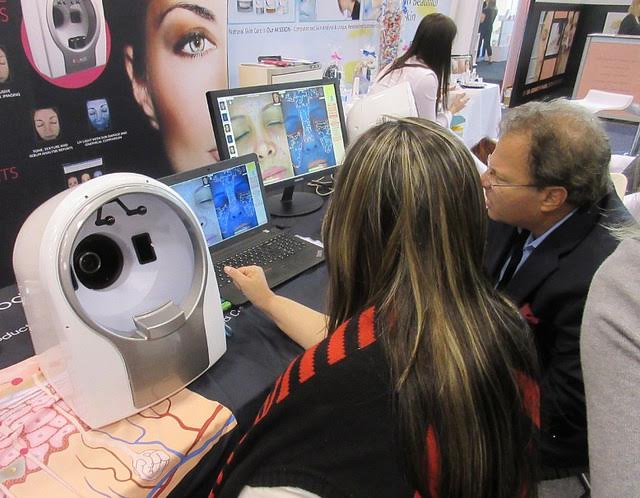 Above: Lonnie Wallace demonstrates the Image Pro II and how laser skin analysis can play an important role in medical imaging.
With over twenty years experience in medical technology, Emage brings the most advanced skin imaging technology to North American market. Their extensive product development and support services give spa owners the confidence they need to really excel at the science of effective skin imaging.
Suffice to say, laser skin care 'evolutionists', those eager to see the latest breakthroughs in this science, were not disappointed at the 2016 ESI event. Moreover the show demonstrated the feasibility of busying lasers and how salon and spa owners can use the devices to diversify and improve their business offerings in the community, thereby ensuring continued growth, as a professional and as a business owner.